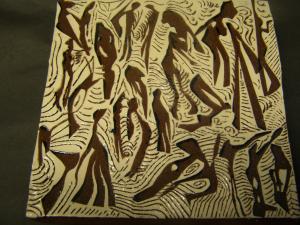 Gloria Angela Ssali wins 'Best Tile - Cultural Heritage' in an invitation only International Ceramics Competition based in the Dominican Republic. The surprise is still evident to the winner who laughs as she explains that she deleted the initial invitation thinking it was junk mail, but was later after consulting with tutor Joanne Anderson managed to retrieve it ,she then proceeded to make her creation.

The tile was inspired by her experiences growing up in the bustling life of Kampala, Uganda and its beautiful scenery as well as the work of Henry Moore. The tile which took less than a month to prepare was then shipped to Santo Domingo and culminated in her success in May 2010.

Speaking of her win of $200, a medal and a diploma she expresses her gratitude to the community and credits her faith and supportive family.

The win also she feels gives her chance to give back to the community, which, she hopes can inspire others to see another chance to beleive.